Canton POS


Dancing in the Light: Masterworks from the Age of American Impressionism (November 27, 2020-March 7, 2021)

Images (from left): Sunny Day, Boothbay Harbor, Maine, c. 1920. Helen McCarthy (American, 1884-1927). Oil on canvas, 25 x 30 inches.
On Loan from Private Collection c/o Keny Galleries.  |  On the Sands, c. 1915. Edward Potthast (American, 1857 - 1927). Oil on board,
12 x 16 inches. On loan from Private Collection c/o Keny Galleries.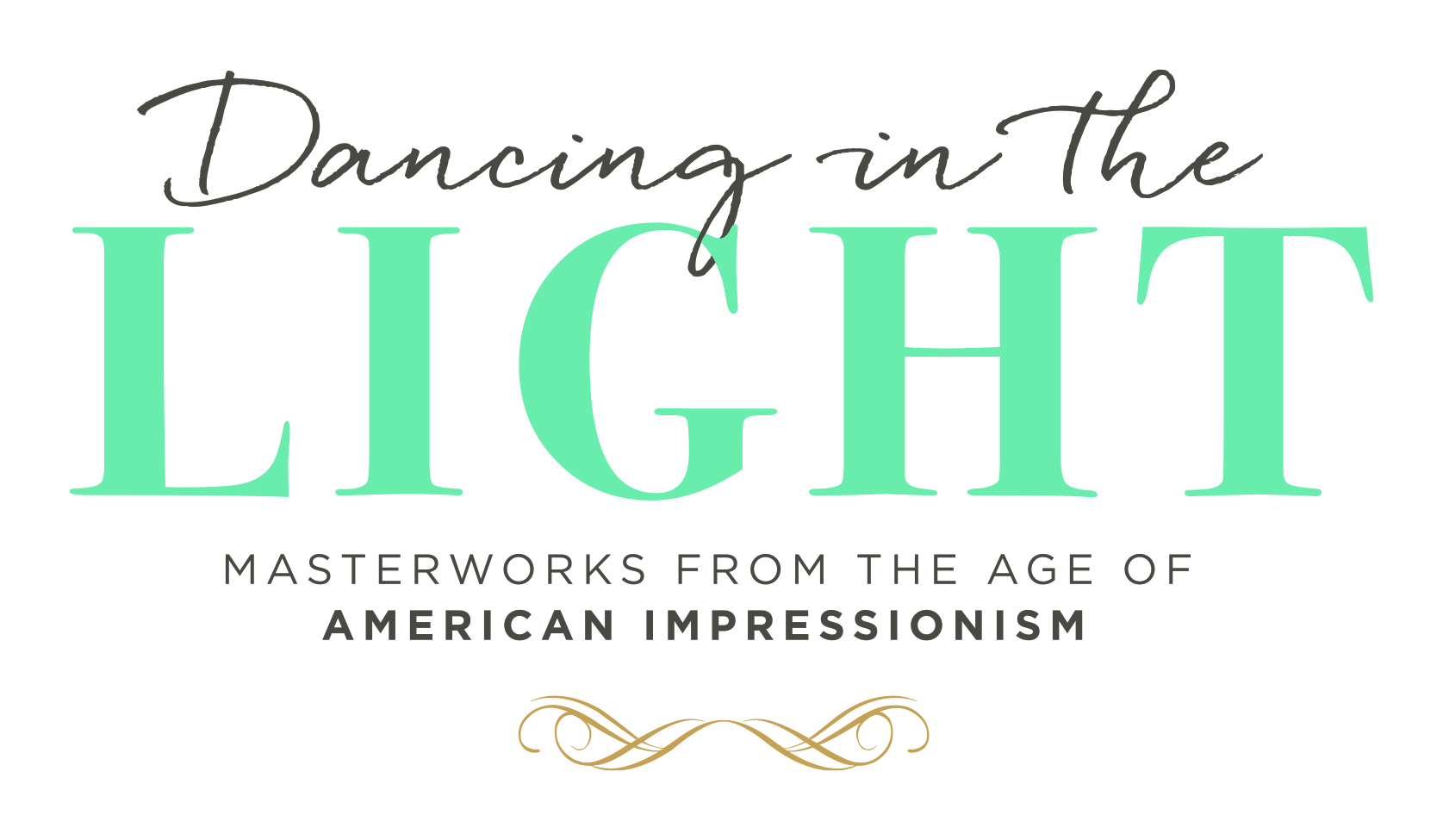 Dancing in the Light: Masterworks from the Age of American Impressionism an original exhibition event on works of American Impressionism, 1878 – c. 1930, with a focus on the uniquely American medium of watercolor. Dancing in the Light is the featured exhibition celebrating CMA's 85th Anniversary during the 2020-2021 season.

This exhibition is presented with generous support in part from: The Timken Foundation of Canton, PNC Bank, Visit Canton, Stark Community Foundation, and The Paparella Foundation, and The Hoover Foundation.

The exhibition features paintings and works on paper borrowed from private collections, museum collections, and CMA's own collection to tell the story of the movement of American Impressionism from its beginnings in France to the shores of America – and why it is still relevant and approachable today as one of the finest artistic periods. Several works from major artists held in private collections will make their "public" debut for this exhibition — one of the most major shows to address the immensely popular subject of American Impressionism in a mid-western venue in several decades, and the first to showcase a comprehensive survey of American Impressionism highlightng the numerous  masterpieces owned by Ohio collectors and regional institutions. A full-color catalogue will accompany the exhibition, available in the Museum's Artisan Boutique.

Some the preeminent American masters to be represented will include:
 
• Robert Blum (1857 – 1903) • Theodore Butler (1861 – 1936) • Mary Cassatt (1844 – 1926) • William Merritt Chase (1849 – 1916)
• Childe Hassam (1859 – 1935) • Winslow Homer (1836 – 1910) • Jane Peterson (1876 – 1965) • Edward Potthast (1857 – 1927)
• Maurice Prendergast (1858 – 1924) • John Singer Sargent (1856 – 1925) • Alice Schille (1869 – 1955)
• William Sommer (1867 – 1949) • John Henry Twachtman (1853 – 1902) • James McNeill Whistler (1834 – 1903)
Major museums represented include:
• Butler Institute of American Art • Cincinnati Art Museum • The Cleveland Museum of Art • Columbus Museum of Art
• Dayton Art Institute • Flint Institute of Art • Huntington Museum of Art • Toledo Museum of Art • Westmoreland Museum of Art
Curators & Contributors
This original exhibition is curated by the Canton Museum of Art and guest curator James Keny of Keny Galleries in Columbus, Ohio — one of the Keny Galleries in Columbus, which is well-known for its expertise in Ohio art and American Impressionism. Keny has guest curated over a 20 museum exhibitions devoted to various aspects of American Impressionism, including the recent In a Clear Light: Alice Schille and the American Watercolor Movement (2019) and the earlier American Impressionism: Variations on a Theme (2006), both at Columbus Museum of Art. He has also organized over 25 such shows for Keny Galleries in German Village. Mr. Keny is the contributing author of several books, including Triumph of Color and Light: Ohio Impressionists and Post-Impressionists (1994) and author to numerous scholarly articles on the subject in American Art Review. Keny has a BA from Harvard University with a concentration in Art History and Economics.
Contributions to the accompanying catalogue and the exhibition are from Dr. William Robinson, a world-renowned art historian and expert on the American Impressionism period, currently the Senior Curator of Modern European Painting and Sculpture, 1800 – 1960, at The Cleveland Museum of Art and adjunct professor of art history at Case Western Reserve University, where he received doctorate in art history. Robinson has organized more than 20 exhibitions and written extensively on a broad range of topics concerning 19th- and 20th-century art. His most recent publications include Picasso and the Mysteries of Life (2012), Van Gogh Repetitions (2013), and Monet and the Modernist Garden. He has contributed articles to Modern Art Criticism, American Art Review, The New Art Examiner, and Sculpture Magazine. Robinson organized the 2016/2016 Cleveland exhibition of Painting the Modern Garden: Monet to Matisse, to much international acclaim.

Images (from left): Facade of Palazzo, Girgenti, Sicily (detail), c. 1901. John Singer Sargent (American, 1856-1925). Watercolor
on paper, 10 x 7 inches. On Loan from Private Collection c/o Keny Galleries.  |  Bleak House, Broadstairs (detail), 1889.
Childe Hassam (American, 1859 - 1938). Watercolor on paper, 13 x 9 inches. Canton Museum of Art Collection.

Exhibition Background
Impressionism in the art world usually turns everyone's mind to the revered works by the French artists of the late 19th century, including Monet, Degas, and Renoir. From "Water Lilies" to "Ballerinas at Rest" and beyond, the work of the French Impressionist Movement (1860 – 1900) captivates audiences today with its vibrant colors, energetic brushstrokes, and the artists' attention to the fleeting effect of dancing light, atmosphere, and movement.

Many think of the French Impressionists as the only Impressionists. Until they are introduced — or reintroduced — to the amazing American artists who likewise lit up the sun-dappled landscape, illuminated dance halls, and captured ladies at tea or casually dining on the beach. That's what makes Impressionism in all of its forms so popular and accessible to audiences — we can all imagine ourselves stepping inside the paintings and becoming a part of the scene.
 
Between 1860 and 1930, Ohio was the third most populous state in the country and one of the wealthiest. Remarkably there are eight major art museums in the state and over a dozen outstanding art schools. This legacy is more substantial than that of virtually any other state outside of New York and California. Its institutional strength has attracted many superb works to the state and has also sparked the careers of many important American artists that were born or studied in Ohio. As a result, many of the finest American Impressionist paintings are currently owned by Ohio individuals and regional institutions, including masterpieces by such venerated artists as Mary Cassatt, Childe Hassam, John Singer Sargent, and James Whistler. As such, a gathering of works by these artists is remarkable.
ADDITIONAL READING & RESOURCES
Excerpt from "American Impressionism," H. Barbara Weinberg, The Metropolitan Museum of Art, 2004:
"The American Impressionists were much more cosmopolitan than their French counterparts. Several were expatriates or spent long periods in Europe; those who repatriated often crossed the Atlantic to attend exhibitions, visit museums, and work in artists' colonies. In Europe and the United States, the American Impressionists witnessed the transformation from an agrarian to an industrialized urban society. They were simultaneously excited by change and nostalgic for the reassuring and familiar past.

"While some American artists adopted only the surface effects of Impressionism, simply to accommodate collectors' evolving taste, many of them shared the French Impressionists' conviction that modern life should be recorded in a vibrant modern style. Their works, like those of their French counterparts, appear to be infused not only with light and color but with meanings inherent in the subjects they depicted. Some were captivated by the energy of urban life, responding to the fragmented experience that marked the age in rapidly rendered vignettes. Childe Hassam, for example, caught the flavor of characteristic neighborhoods in New York and Paris. But most American Impressionists chose to portray the countryside to which urbanites like themselves and their patrons retreated. Many favored artists' colonies, especially those with architecture and activities that evoked a more tranquil era. In England, for example, Sargent found respite from the portrait studio by painting pastoral scenes in Broadway, a charming village in the Cotswolds. Repatriated Impressionists founded and frequented similarly picturesque colonies: the Isles of Shoals, off the New Hampshire coast, where Hassam painted, and Southampton, New York, where Chase taught and worked. Some American Impressionists worked alone in other distinctive rural locales. Twachtman found inspiration on his farm in Greenwich, Connecticut." (Weinberg, H. Barbara. "American Impressionism." In Heilbrunn Timeline of Art History. New York: The Metropolitan Museum of Art, 2004.) Read the full "American Impressionism" essay here
 


Exhibition Cover Image:  Mother and Child in a Garden, France, c 1911-12. Alice Schille (American, 1869-1955). Watercolor on paper, 23 ½ x 19 ½ inches. On  Loan from Ann and Tom Hoaglin.