Canton POS


Beyond Worlds: Paintings by Laine Bachman (April 23, 2024- July 28, 2024)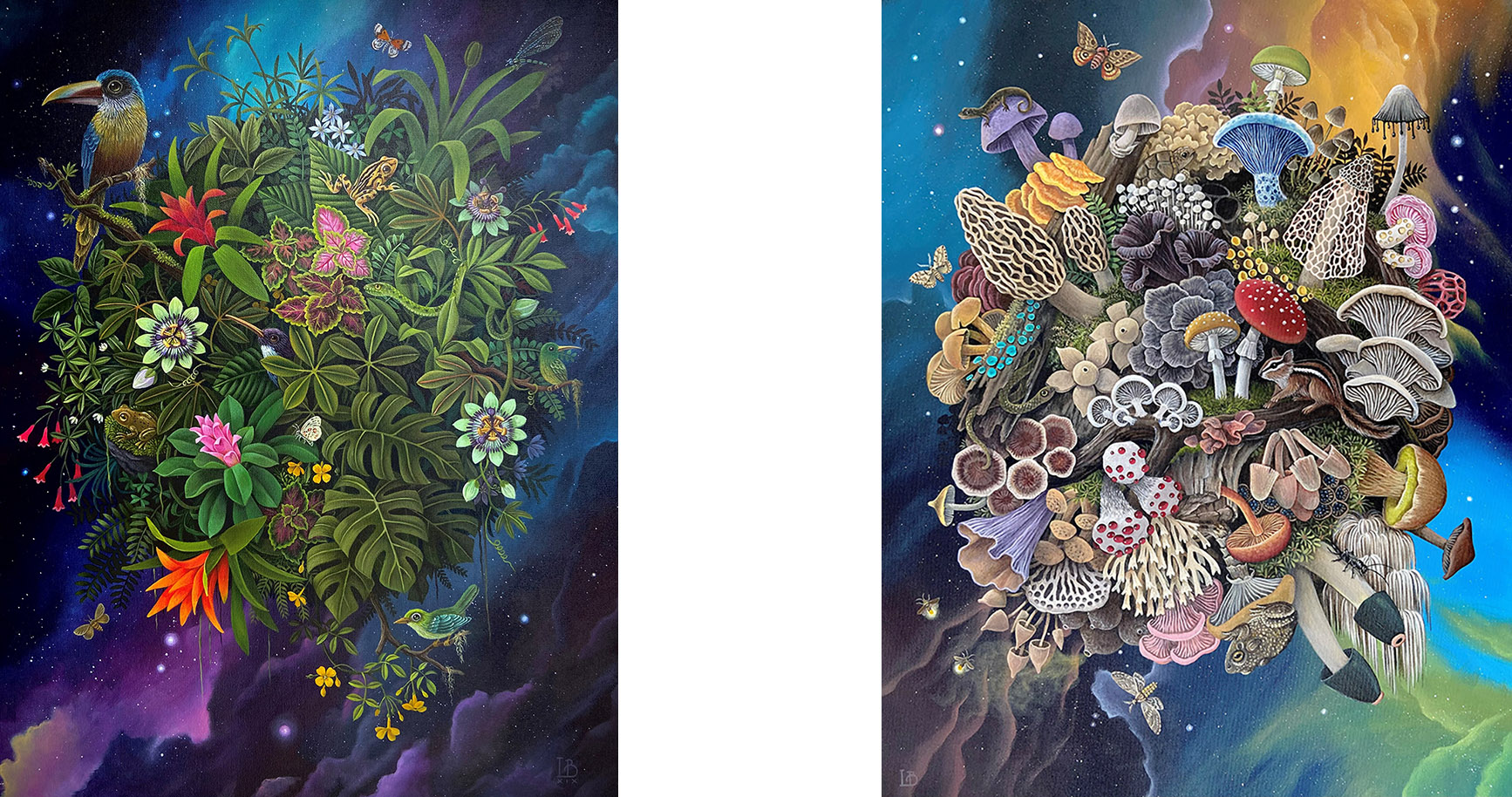 From the Artist:
"Suspended in the ether of some surreal galaxy, the worlds I create give a glimpse into flora and fauna that exist in a hidden interplanetary realm.  Each is a themed bouquet where I explore and study different species that exist in our own world.  I relish the details of their structures and include many forms of life I find fascinating. I approach each piece as a puzzle with parts that can coexist, painting a picture of a precious ecosystem that becomes more complex as the work evolves.  One may find a frog nestled below a fern or a mole napping under a toadstool. There are many creatures and plants we recognize from the past and some that have yet to be discovered. Creating these planets has been a journey to capture the beauty of nature and elevate small moments that may otherwise go unseen. Though they reside in the mire of a newly formed galaxy, they are truly a celebration of our world and the life that exists within it."
- Laine Bachman
As a young child growing up in a once flourishing town in the Rust Belt of Ohio, Laine Bachman always had an affinity towards drawing and painting. Her parents encouraged her creativity from the beginning which led to her attending art school in nearby Columbus, receiving a BFA from the Columbus College of Art and Design in painting in 1997.
Often inspired by myths and folklore, Bachman infuses the worlds she creates with archetypal imagery, underlying themes, decorative motifs, and meticulous details. Working in watercolor and acrylics, her paintings are full of creatures and landscapes, real or imagined, that are all part of the larger story behind her work. Bachman's work, recognized as Magical Realism, is greatly influenced by Henri Rosseau and his flat, lush, and detailed landscapes and also by surrealist Frida Kahlo.
Representations of life, death, beauty, innocence, and evil are depicted in Bachman's work.  Whether it's animals, insects, birds or favored objects, they become symbols of different expressions.  As owls are a symbol for wisdom or butterflies can represent a transformation, it's this kind of idea behind the creatures that helps them tell a part of the whole story.
The works expose unique environments in which to explore and pay homage to the various forms of life that Bachman finds fascinating and mysterious in nature. Vast landscapes are used to showcase these life forms, showing the spaces between and the surfaces above and below. The worlds she creates are hidden and untouched by man, and give the viewer a glimpse into the secret lives of their peculiar inhabitants.
Laine Bachman earned her BFA at the Columbus College of Art and Design in 1997. Upon graduating, she stayed in Columbus and has continued painting for the past 20 years.
Throughout the years Laine has had work included in several juried exhibitions and group shows at numerous galleries as well as the Southern Ohio Museum of Art, and her work has garnered numerous awards and is in many private collections.