Canton POS

Art Collection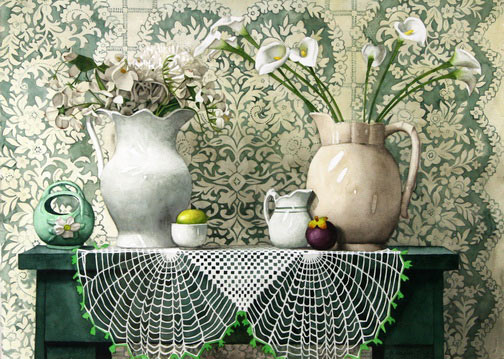 Established in the late 1930s, the focus of CMA's Collection is American works on paper from the 19th century forward, with an emphasis on watercolors, and American ceramics from the 1950s through today. With more than 1,500 pieces valued at between $35 and $40 million, the Museum's Collection ranks as one of the finest in Ohio.
The Collection includes American masters of watercolor such as Andrew Wyeth, Edward Hopper, Winslow Homer, John Singer Sargent, Childe Hassam, and Charles Burchfield, in addition to important oils, prints, drawings, and other works by Andy Warhol, Clyde Singer, M.C. Escher, Julian Stanczak, Roy Lichtenstein, and Thomas Hart Benton among others. Periods represented range from Impressionism and Realism to American Regionalism, Abstract Expressionism, Contemporary, and more.
Artists such as Viktor Schreckengost, Toshiko Takaezu, Peter Voulkos, and Viola Frey are important figures in the Museum's ceramic holdings. Reflecting the Ohio region's richness in ceramics, including the influence of Cleveland School artists and Cowan Pottery, CMA's Collection provides exciting opportunities for discovery.
New works are added through the Collections Management Committee from gifts or purchases from the Museum's acquisition funds, which are restricted solely for the purchase and direct care of art. In addition to shows each year at CMA, works from the Collection are included in touring exhibitions across the United States, as well as on loan to other museums and institutions. CMA's Collection is consistently updated and available online by visiting:
Featured Galleries
Selections by Type
Selections by Subject