Canton POS

Museum-To-Go Program

Bring the Museum Inside your classroom!
Connect your students with art like never before with Museum To Go – a new outreach program from the Canton Museum of Art (CMA).  This FREE, interactive classroom experience ignites imaginations and makes exploration, discovery, and learning fun!  We bring the Museum to your classroom through a virtual exhibit tour, an interactive lesson, and a hands-on art activity.
In a Museum To Go experience, your students will
Discover specific works of art, discussing their subject matter, historical periods, creative techniques, materials and meanings.
Explore a current exhibit from CMA's Permanent Collection through a Google Virtual Tour, experiencing artwork in the Museum setting.
Connect artwork with themes relating to Common Core Standards in Math, Science, Social Studies, Language Arts, and Visual Art topics.
Engage in an experiential, hands-on art project relating to themes being explored in both the artwork and the academic standards.
As a teacher utilizing Museum To Go, you will  
Spark critical thinking, problem solving, language skills, and innovation in students through creative exploration of art.
Gain access to lesson planning and Museum resources online to prepare for a Museum To Go visit and reinforce subject matter after the visit.
Appreciate the flexibility of scheduling an in-class visit year round- and prepare students for a visit to the Canton Museum of Art to experience art firsthand.
What you need to know:
The program is FREE and open to all Stark County 4th grade educators!  (any subject area)
We will have three lessons to choose from throughout the year, the first lesson will be ready for your classrooms starting on September 28th.  Following lessons will be announced this winter and spring.
Our first lesson entitled "What's Your Angle" is a hands-on lesson connecting math, language arts and the visual arts through a fun group art activity.
Placements are available from: September 28th- May 30th
To participate complete the simple on-line survey at:   Museum To Go Questionnaire
Requests are filled on a first-come, first-served basis and require a two week minimum notice.
Schools are encouraged to schedule field trips to the museum to see the artwork firsthand.
To participate please complete the simple online survey at:  Museum to Go Survey  
Museum to Go Educator Packets and Virtual Gallery Tours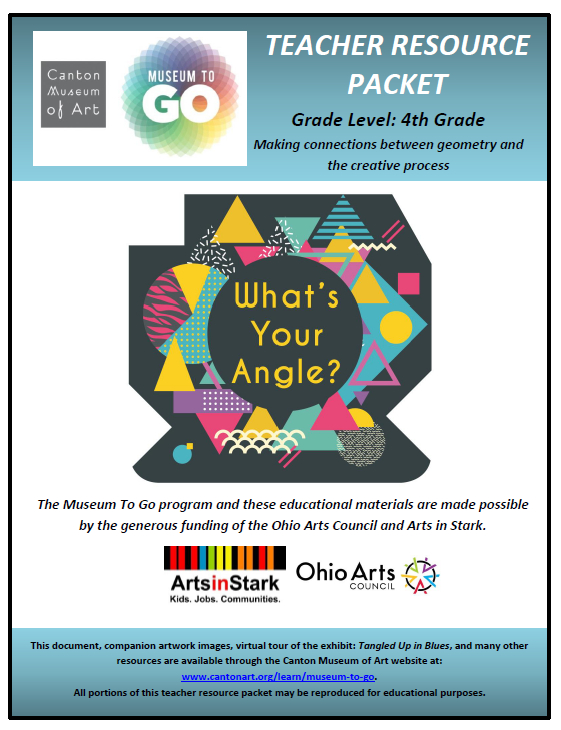 What's Your Angle
Download the Educator Packet "Whats Your Angle?" for 4th Grade Students
Visit the companion Vitual Gallery Tour: Tangled Up in Blues: Aspects of Blue from The Permanent Collection (9/1/16 – 10/30/16)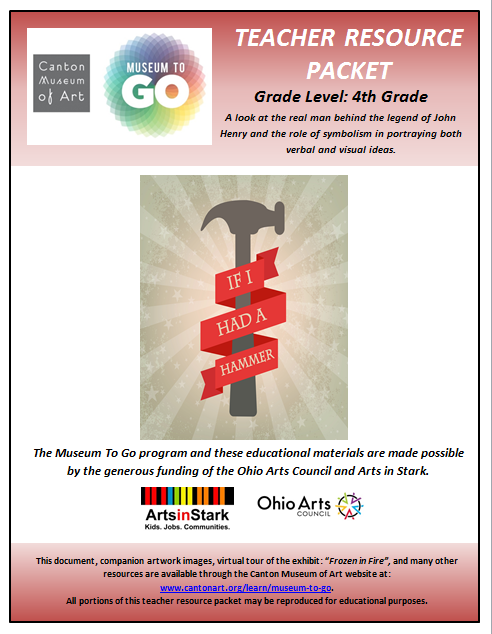 If I Had a Hammer
Frozen in Fire: Ceramics from The Permanent Collection (11/25/16 – 3/12/17)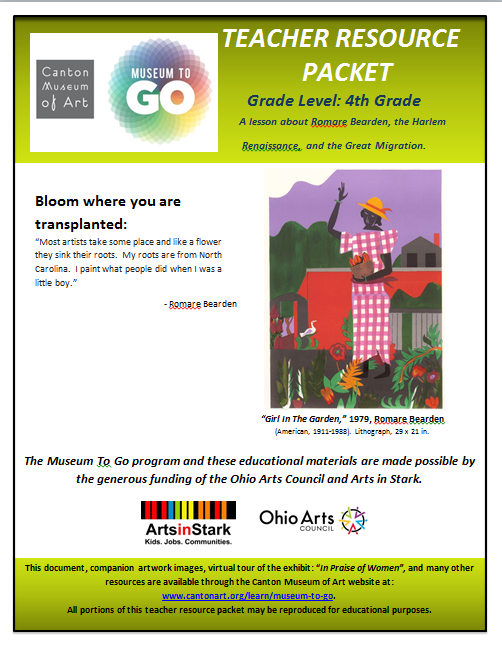 Great Migration
Educator Packet: "The Great Migration" for 4th Grade Students
Visit the companion Vitual Gallery Tour:
In Praise of Women: Works from the Permanent Collection (4/29/17 – 7/23/17)
Contact Rosemary Stephen, Museum to Go Coordinator, for more information about this program at 330-453-7666 x107 or rosemary@cantonart.org