Canton POS


Finding Home: Four Artists' Journeys (May 2, 2023- July 23, 2023)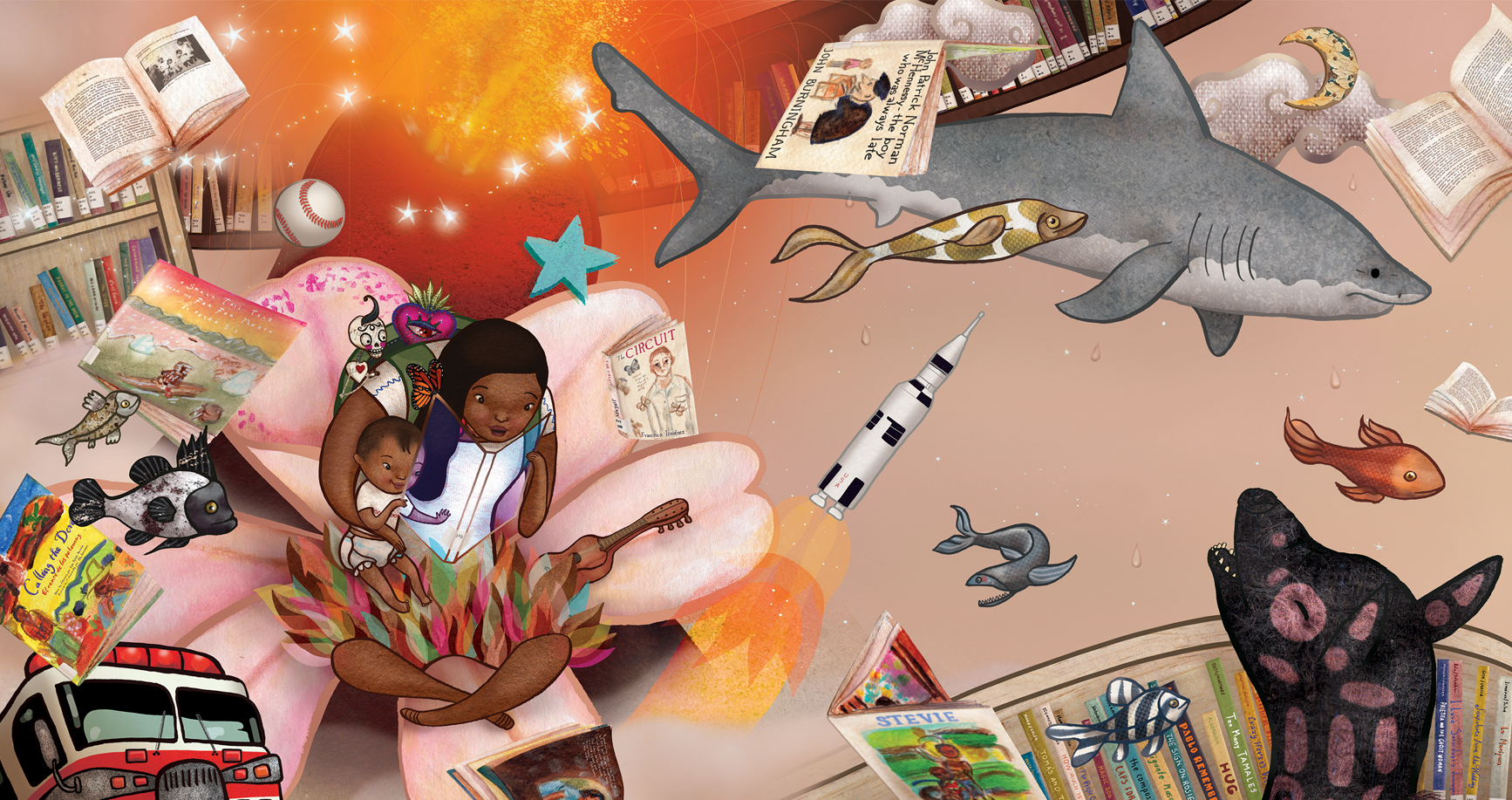 What defines home? The circuitous pathways to finding a place of one's own are explored in our upcoming exhibition, Finding Home: Four Artists' Journeys, which features compelling visual memoirs inspired by personal journeys through time and place. Master illustrators bring the immigration experience to life in images and words that give voice to the complex emotional realities of traveling to America, and of adapting to a new world thousands of miles away from where their stories began.
More than one hundred-fifty original drawings, paintings, linoleum block prints, and digital mixed media works by artists Frances Jetter, David Macaulay, James McMullan, and Yuyi Morales draw upon memories and family narratives, and on historical research that establishes meaningful contexts for their work. Personal mementos⸺from treasured toys, skates, and tea sets to articles of clothing, books, photographs, and travel documents, as well as video commentary, will illuminate each illustrator's story. The space that images make to inspire conversation will be explored, as will the distinctive qualities of each artist's voice, their aesthetic and technical approaches, and the use of visual symbols as anchors in their poignant sequential narratives.
Frances Jetter's Amalgam is an illustrated history of the life and times of her immigrant labor unionist grandfather, who left Poland in 1911 when it was still part of the Russian Empire. After arriving at Ellis Island, he found work as a pocket maker in a New York garment factory and became a foot soldier in America's army of labor, spending his life fighting for a living wage. Amalgam, a powerful limited edition artist's book, focuses on his dual role as a union member advocating for democracy in the workplace, and as a dictatorial patriarch of his Brooklyn family, waging a war against frivolity and toys. Jetter's images contrast old world ways with the desire to assimilate and follows the family and the union through the Great Depression and World War II to the 1960s, and the union's decline. A labor of love, Amalgam has been under construction for almost a decade, and is extraordinary among Jetter's extensive body of work, which includes prints, artist's books, and drawings focusing on political and socially significant subject matter. Her images have illustrated articles in the New York Times, The Washington Post, TIME, The Nation, the Village Voice, The Progressive, and others.
 Caldecott Award-winning artist David Macaulay documents both his own family's immigration story and the state-of-the art ship that made high speed ocean travel possible in his recent book, Crossing on Time: Steam Engines, Fast Ships, and a Journey to a New World. The creator of the best-selling illustrated books, The Way Things Work, Cathedral, City, Castle, Ship, and many others, Macaulay brings his signature curiosity, in-depth research, and detailed observations to his own immigration story. A plethora of studies, ship models, photographs, and more, trace his journey from England to the United States, as well as the unprecedented engineering project that culminated in the building of the most advanced steamship of its time⸺SS United States. The design and construction of the ship and the life of its designer, William Francis Gibbs, are fully explored, framed by Macaulay's own poignant tale, as he and his family crossed the Atlantic on this marvel of technology and engineering.
Leaving China, a memoir by James McMullan, is inspired by his World War II childhood, and the family's travels from China to India, Canada, and the United States. Born in Tsingtao, North China, the grandson of missionaries who settled there, he took life for granted until World War II erupted and his world dramatically changed. McMullan's father, a British citizen fluent in several Chinese dialects, joined the Allied forces. For the next several years, he and his mother moved from one place to another—Shanghai, San Francisco, Vancouver, Darjeeling—first escaping Japanese occupation then trying to find security, with no clear destination. Those ever-changing years took on the quality of a dream, a feeling that persists in his stunning watercolor paintings, which compliment a text that tells a remarkable story. McMullan's distinctive illustrations have appeared on the pages of virtually every American magazine, in best-selling picture books, and on the posters for more than seventy Lincoln Center theater productions.
In 1994, Yuyi Morales left her home in Xalapa, Mexico and came to the United States with her infant son, Kelly, leaving behind everything she owned. Dreamers tells the story of her difficult passage―Morales spoke no English at the time, but she found solace and inspiration in an unexpected place, a San Francisco public library. Book by book, she unraveled the language and customs of an unfamiliar new land and found ways to make a home within it. A celebration of what immigrants bring with them when they leave home, Dreamers is topical, timeless, and relevant as that status of immigrants become increasingly uncertain. Morales is the author/illustrator of many noted picturebooks, including Just a Minute, Niño Wrestles the World and Little Night Nochecita, and Georgia in Hawaii: When Georgia O'Keeffe Painted What She Pleased.
Finding Home: Four Artists' Journeys
has been organized by the
Norman Rockwell Museum, Stockbridge, Massachusetts
Image previous page: 
Three Generations in One Cramped Apartment, 2018. Frances Jetter. Linoleum cut print on paper. Illustration for Amalgam by Frances Jetter. Collection of the artist
Image Frances Jetter. All rights reserved.
Above Image: 
Illustration for Unbelievable. Surprising. 2018. Yuyi Morales. Mixed media digital. Dreamers (New York: Neal Porter Books, Holiday House Publishing, Inc.) 2018. Collection of the artist