Canton POS


Made Home (May 2, 2023- July 23, 2023)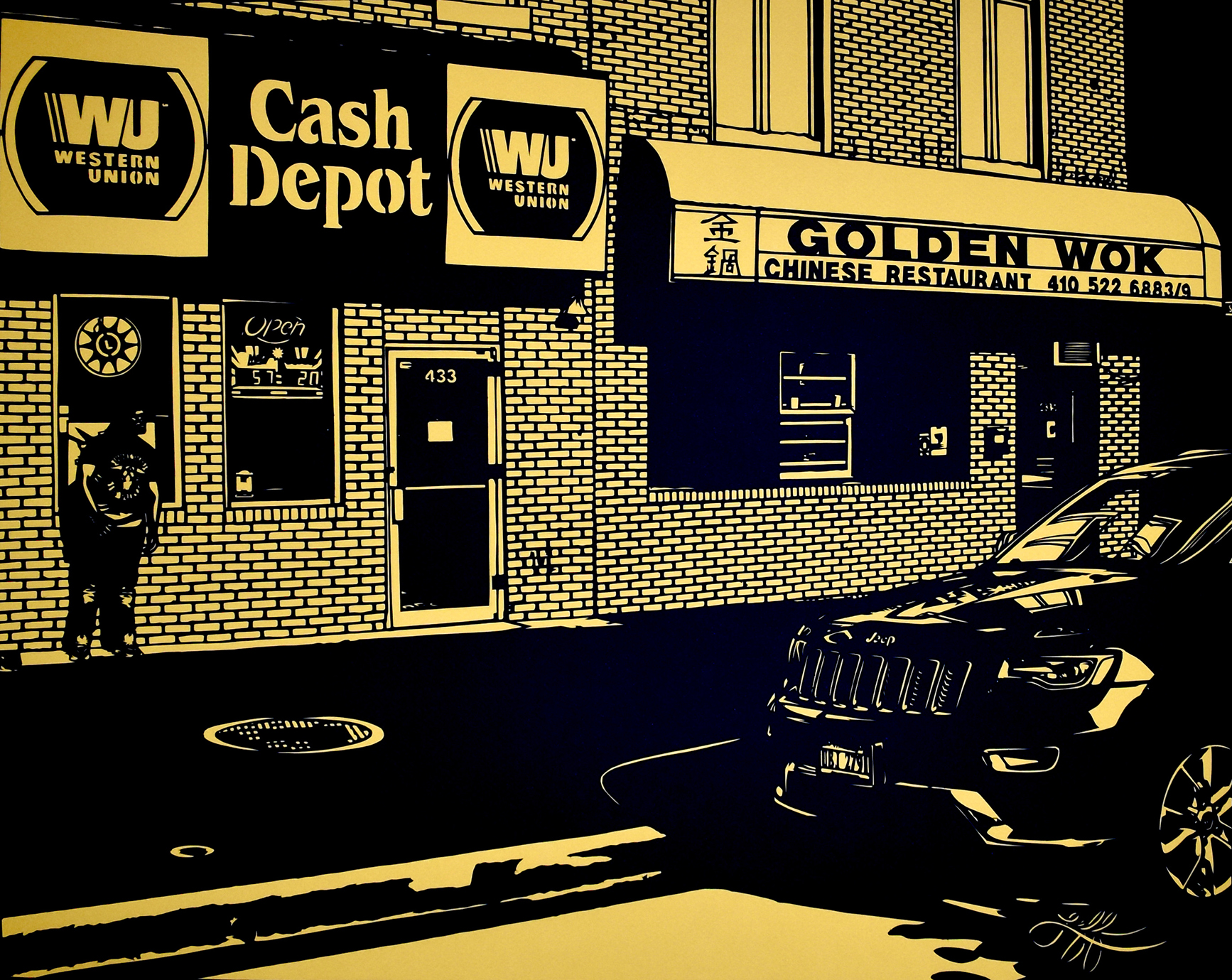 Between painting alongside her grandmother and watching her father build reproduction antique furniture, Rosa Leff grew up seeing no distinction between fine art and craft. What mattered was that things were made by hand and done well. It is with that in mind that she creates her hand cut paper pieces. Each of Leff's papercuts is cut by hand from a single sheet of paper using a knife. Her cityscapes are based on photos she's taken in her neighborhood and all over the world. While Leff is best known for her ability to capture thin tangles of powerlines and intricate brickwork, she also enjoys experimenting with novel media such as paper plates and paper towels. Leff delights in bringing a modern, urban perspective to a traditional folk medium.

Leff has served on the board of The Guild of American Papercutters (GAP). In addition to being a GAP member she is a member of The Paper Artist Collective. Leff has exhibited her work throughout the United States and in China. She resides in Baltimore with her husband and chihuahuas, Chalupa and Refrito.
From the Artist: 
"I have always enjoyed eating my way through unfamiliar places.  When I was in South Africa I ate biltong and boerewors.  When I was in Cuba I devoured picadillo and drank guarapo.  When I was in Japan I walked up to street vendors, pointed at things I couldn't identify, and ate whatever they handed me.  In Aruba I ate pastechis literally every single day.  But no matter how seasoned of a traveler you are, sometimes you just want a taste of home.
The idea for this exhibit was born the moment I turned a corner in Mexico City and found myself face to face with that universal symbol– A Chinatown gate.  I'd been traveling in Mexico for three weeks and having a wonderful time.  But once I saw the paper lanterns, chubby panda illustrations, and piles of noodles, I felt something I couldn't identify.  
I was instantly transported to a dozen places at once.  It sounded like Chinatown in Philadelphia, where I used to live.  It looked like Chinatown in Montreal where I took a high school field trip and ate dim sum.  (Yes, all I remember about that trip was the delicious dim sum!)  I was reminded of how baffled I was by the plethora of Chinese restaurants in Aruba.  It took me back to the day in Yokohama when I gorged myself on fried rice and dumplings while regretting wearing such tight clothing.  Once I did have the chance to travel to China, I discovered it didn't feel anything like Chinatowns I'd visited, but perhaps it was just the region I went to.  Afterall, China's an enormous and diverse country.  
I can't help but wonder, what it is about these Chinatowns all over the world that feels so comforting and familiar to a Jewish, Black, Puerto Rican gal from Philadelphia.  Whatever the reason, I'm always made to feel at home.  This collection of hand cut works is a meditation on photos I've taken of Chinatowns and Chinese restaurants all over the world.  I hope you leave hungry."
Video by Carlos Gonzalez-Fernandez (@eyelumworks for @peopethingsproject)

Learn More About Artist Rosa Leff... BmoreArt Interview
May 2020: "My work rides a fine line between fine art and craft, if such a line exists."
©BmoreArt
 
Previous Page: El Barrio, 2022. Rosa Leff. Single sheet of cut paper, 16" x 20"
Above: Gold Me Down, 2022. Rosa Leff. Single sheet of cut paper, 16" x 20"