Canton POS


We've Got Issues: Myra Schuetter Watercolors (April 10, 2021 - July 3, 2021)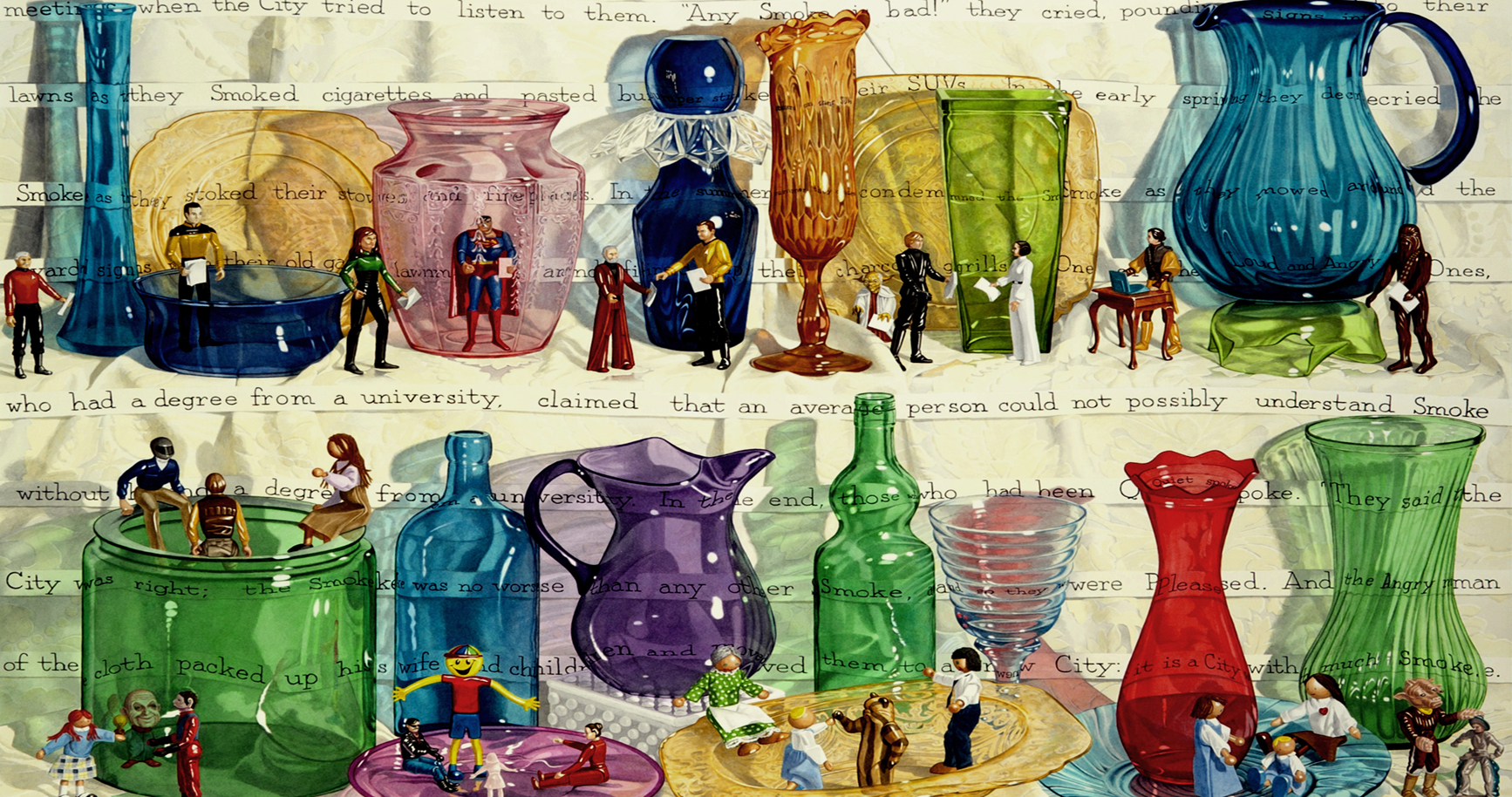 A native of Jasper, Indiana, Myra Schuetter has been working in transparent watercolor for about 40 years. Transparent watercolor, a decidedly non-traditional medium for such large and complex compositions allows Schuetter to have control of all stages of transparency from light and airy color to fully intense color.
Myra Schuetter received a Bachelor of Science in Secondary Art Education from Indiana State University in 1972 and a Masters of Arts in Teaching from DePauw University in 1976. Her career actually began while teaching at a small rural Indiana school. Schuetter's formal training is in art education, but she has a genuine love of drawing and painting. While teaching, Myra visited area realism artists who were making a living painting, and thought "I'd like to do the same". With the support of her husband, Wayne, she left teaching and began painting and selling watercolors of barns and old houses. After exhausting the subject matter, Myra became interested in what might be inside the old houses. That evolved into still life painting.
"My paintings are very full of detail, to be sure, but that is because they are full of thought and meaning. Much of the detail centers around small action figures and toys to help tell the story. Much of the thought behind the stories pertains to current events, political, social and cultural issues, our persistent biases, discrimination and other injustices."
Myra uses realism, along with the scale of her work, to not only draw in the viewer, but to keep their interest long enough to recognize that there is much more going on than what originally appeared to them. She considers realism another usable tool to draw in the viewer, keep their attention and get them to think about the issues that are being presented.
"Realism creates a sort of comfort zone. Using watercolor keeps the paint itself from being a distraction and lets me really get into the detail. The use of little figures and toys helps convey a message. I delight in being known for my highly involved, super-realistic, colorful, large-scale watercolors and enjoy nearly every day in my studio!"
Pictured Above: Distortion vs. Transparency, Myra Schuetter (American) watercolor. 50x 47.5 in. 
Thumbnail Image: The Queen Slays the Old Dinosaurs, Thereby Freeing the Child,  Myra Schuetter (American) watercolor. 45 x 56 in. 
http://www.schuetterstudio.com/
READ OUR LATEST MAGAZINE ISSUE HERE

WATCH OUR VIRTUAL OPENING:
VIEW OUR VIRTUAL EXHIBIT ONLINE WITH INTERACTIVE IMAGE POP OUTS AND AUDIO COMMENTARY: