Canton POS


Symbolic Narrative: Ceramics by Taylor Robenalt (June 30, 2020 - August 2, 2020)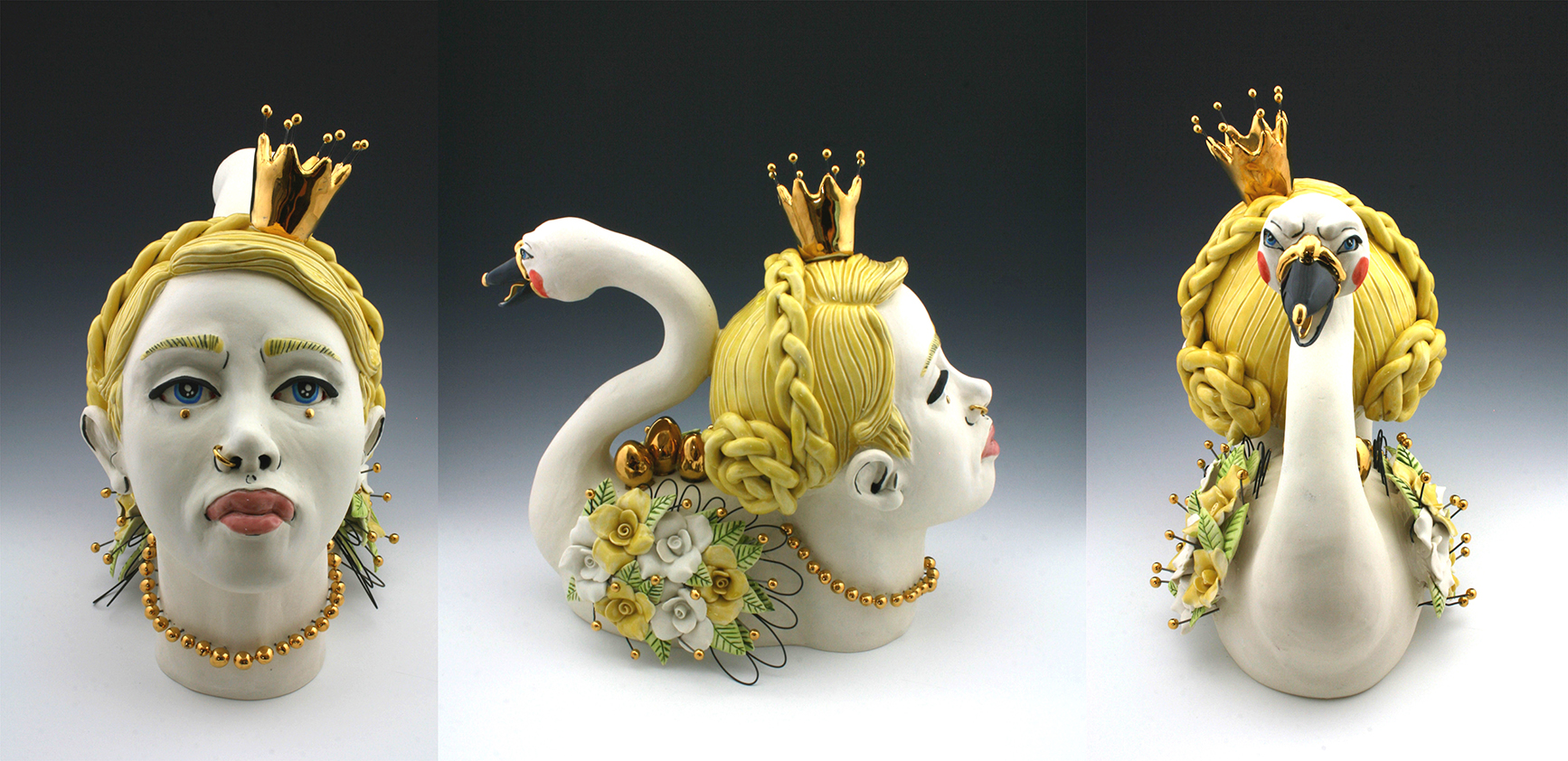 **Learn more about the current exhibitions and Museum news — Download the latest CMA Magazine

Watch our virtual opening with Curators Christy Davis and Kaleigh Pisani-Paige:

View our virtual exhibit online with interactive image pop outs and audio commentary:

Taylor Robenalt uses human forms, flora and fauna to illustrate emotion. Her body of work features clusters of animals and flowers constructed out of porcelain with glaze, gold luster and underglaze applications. In these pieces, the animal heads appear to be bursting out of a heavy cluster of flowers. With each piece created in the series, the flower clusters become more abundant and ornate, and the animals seem to multiply as if the work itself is alive and fertile. The overall black and white color scheme and the pops of color in the pieces are all important to the work. These color motifs attempt to express all the emotions that she personally faces on a daily basis. The coloring of the entire body of work is a comment on how life can become so rigid in the midst of the fluidity of growth, death and rebirth. The bright colors of the flowers illustrate the blossoming of life and offer a contrast to the rigidity of everyday responsibility. The final touches of gold luster offer an overall sense of purity to the body of work and allude to the strong sense of achievement and pride that comes with positively facing life on a day-to-day basis. The work is a metaphor for how life is always transforming itself – constantly bringing forth a new chapter of unforeseen existence.
From the Artist:
"The images I use in my work, especially the repetition of specific animals, have started to take on a more personal meaning in the work. These animals are daily occurrence such as the rabbit, dog and bird.  Each animal has a specific meaning to me that relate to an emotional narrative: the dog represents loyalty and unconditional love, the bird represents vibrancy and freedom and the bunny represents shyness and reclusiveness. The flowers represent the purest form of growth from a plant and that idea of purity is why the flowers appear so heavily in my work. The final touch of my personality in this body of work is represented by the appearance of the hand. The self-awareness represented by my hand making another hand allows me to express all of these emotions in this work. Overall I foresee this work becoming quite large in scale to start pushing the idea of all the emotions I feel in a day being explored through form."
Pictured above: A Summer Breeze and A Golden Necklace, 2019, porcelain, cone 6 oxidation, underglaze, glaze, luster and mixed media.